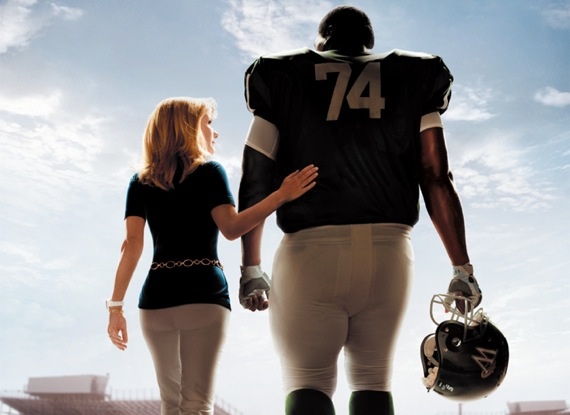 "You're changing that boy's life."
"No, he's changing mine."
Sandra Bullock as Leigh Ann Touhy
The Blind Side (2009)
Late 2012, my husband began praying, asking God to really bless our efforts to reach out to others. He started taking some of the guys in our college group out to dinner. The first one he hung out with was Michael.
At the time, Michael was living at a friend's house and was faced with the possibility that he might not be able to stay there much longer.
Jon told me, in the future, Michael might need a place to live and approached me about offering our extra room for him if the opportunity arose. It seemed God was being very clear.
I have to admit that I had a lot of reservations. Being newlyweds, I had become attached to our easy privacy at home. Selfishly, that was my first worry.
How would the presence of a third person in the house affect our marriage?
Right after the New Year, Michael had reluctantly booked a plane ticket to Georgia.
On the eve of his flight, he came to church to say goodbye to his California friends.
Without hesitation, I looked him in the eye and asked, "Do you need a place to stay?"
He nodded, sheepishly.
Then, I looked at my husband and our eye contact said what we needed to hear from each other: "I'm in."
Michael moved in a few days later.
Even after Michael moved in, I had reservations. I had consented, but I was scared. I confided in my girlfriend, telling her how scared I was and explaining my worries. She replied: "Wow, sounds like Michael is going through a lot right now."
It was a much-deserved slap in the face.
Who was I doing this for anyway?
Michael lived with us for five months.
Our story is hardly as dramatic as
The Blind Side
, but we learned that he loved/inhaled cereal, he laughed at everything, and "his body was ready"
for anything.
He was hard-working, grateful, and unassuming.
He helped out with the dishes at times and once cleaned the entire kitchen for me.
After dinner, we would laugh and joke together while we cleaned up.
I even had a conversation practically identical to one from the movie.
I asked Michael, "Do you like being called Mike or Michael."
A few days after Michael had moved out, I had been emailing my sister-in-law, telling her the sad news, and she asked me, "Was it like you had expected?"
My answer: "It wasn't that hard."
So many people had come up to us, appalled and shocked at the news we had given Michael an open invitation to stay at our house rent-free for as long as he needed.
True, we were working on helping him become independent, but there was never any pressure to get him to find his own place.
One of our friends couldn't stop saying, "Wow…I'm just speechless. I would never be able to do that. Wow, just wow."
After awhile, we got a little tired at trying to figure out how to politely respond to all of the exclamations of awe.
We would try shrugging, saying that Michael was a great housemate, talking about all of the ways having Michael at home as helped us, but people were very focused on the fact what we had done was unheard of.
It began to make me sad that people were so shocked.
Cases like this shouldn't be an anomaly; they should be more common in the church.
This should be happening all the time.
I don't want to discount the sacrifice that is involved. It is a sacrifice, but once you take that leap of faith, its mostly smooth sailing afterwards. Don't let the horror stories scare you.
Now that he's gone, I miss hearing his usual greeting when I come home from work and the energy he brought to the house. He's not gone forever (he lives just 5 minutes away), but it just goes to show that he wasn't a boon. We enjoyed having him at our home. It was a joy.
And I would do it all again. In a heartbeat.
Soli Deo Gloria.